Planning, Regulations and Standards
Land Use Planning and Cycling
Integration between transport and land use has long been the holy grail - but rarely acheived in practice. Designing cities to create patterns of movement that are sustainable means having everyday destinations such as home, work and school located so that cycling is a practical option. Strong planning can help ensure this, and that links are made between cycling and onward modes of transport such as trains and buses. Clear and high quality interchanges signal that using more than one mode of transport in a journey - rather than just the car - is a natural choice.
Connecting the dots between cycling, land use and public transport
Handshake cities will learn how to ensure cycling facilities and interchanges are well located to be used to support journeys that allow for home, shopping, school and work to be undertaken easily and flexibly as part of one trip. The expertise of estimating the demand for, planning and developing cycling hubs at rail stations and cycle parking at other key types of location in the Netherlands will be shared between Handshake cities.
Cities using this solution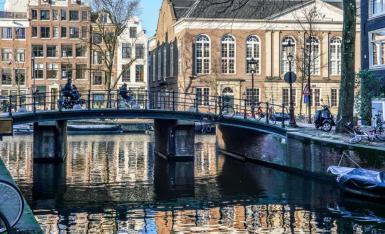 Leader: Amsterdam
In the last ten years, the population has risen by more than 100,000 people and a similar amount of jobs. The total mobility to, from and within the city has not changed in this period, but cycling has grown substantially, reducing the amount of car and public transport journeys. This high rate of bicycle journeys has not only prevented the city from descending into standstill, it  also means the city can continue to build, through progressive land use densification and integration of mixed-uses, cycling integration with other modes, particularly with the train (e.g. cycling parking at stations, on-board access).
About 50% of all train passengers use the bike to ride to a train station. Amsterdam realized in cooperation with Dutch ProRail at all ten train stations a lot of bicycle parking facilities. In total about 38,000 bicycles can be parked at train stations. In the coming years more bicycle parking facilties will be built. Bike and train is a golden combination in Amsterdam (and the Netherlands) for longer distances. Amsterdam invested also in bicycle parking at metro stations. It is allowed to take your bike with you in the metro, but only few people do so. Most people park their bike at stations.
Follower: Rome
Rome has allocated a dedicated budget to invest in intermodal actions such as multimodal hubs at main train/metro stations, as well as new parking facilities at public schools and offices. The city wants to learn how Amsterdam dealt with parking facilities and cycling integration.