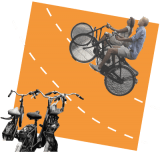 Infrastructure and Services
Cycle Parking
Cycle parking is the most popular solution Handshake for cities to learn about and transfer. Done well, it is a part of a city's standard infrastructure and can even add to its identity. Done poorly, it can contribute to inaccessibility, cycle theft and overcrowding. All cities need to prepare for increasing rates of cycling - and even leading cities like Copenhagen can learn from how high volume cycle parking is provided in Amsterdam. 
Bigger and better integrated cycle storage
Many Handshake future cycling capitals will learn to create large scale cycling parking areas and integrate them with other modes of transport including the walking environment. Our leading cities will further develop ideas about "flexible" cycle parking areas and better integrating them into public space, with overall reductions in space for car parking.
Cities using this solution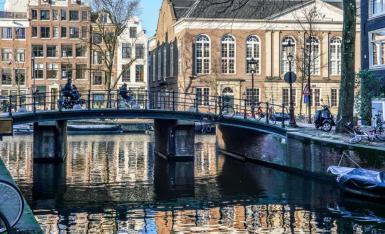 Leader: Amsterdam
In the city as a whole there are over 255,000 bicycle spaces in public areas. Most of them are situated in residential areas. All ten train and metro stations have bicycle parking facilities. Also all important destinations, like shopping and nightlife areas, and other kinds of facilities (e.g. sport, medical, cultural) have dedicated parking spaces.
To create high quality public space and space for pedestrians, Amsterdam built and will build underground parking garages for bikes in busy areas. It also introduced bicycle parking rules, which allow cyclists to park their bike for a maximum of six weeks unused. That is how Amsterdam creates space in the facilities for regular cyclists. At train stations and very busy areas, the bicycle parking time is maximum two weeks unused and can only be parked in the facilities.
Amsterdam has a growing demand for bike parking facilities, but scarse public space. That is why Amsterdam wants to test flexible or multifunctional use of parking places. At certain times of the day parking places may be used by freight traffic (e.g. unloading zones), but during the rest of the day it may be used by bike parking. Or, on busy evenings, for example the Albert Cuyp market and entertainment area in 'De Pijp' is used as a parking area for cyclists. Amsterdam is monitoring the effects of these flex parking trials and ensuring their proper recognition and uniform appearance from a user's perspective.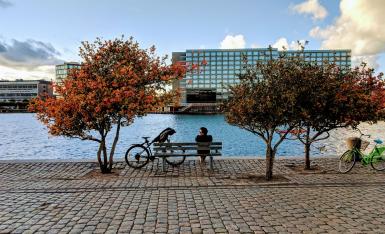 Leader: Copenhagen
Bicycle parking is an important policy issue in Copenhagen. However, establishing extra bicycle parking facilities is complex in a city with pressure on urban space. Copenhagen has been testing multifunctional parking at stations and at schools where bicycle parking is very much needed during the day but settles down at night leaving room for example parked cars. Prototypes of space-effective solutions such as vertical racks, nudging in order to distribute bikes more evenly, and valet services have also been tested.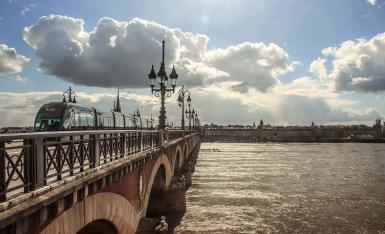 Follower: Bordeaux
Bordeaux doesn't have enough higher capacity cycling parking and intends to create a massive cycle park in the "Brazza" neighbourhood in 2020.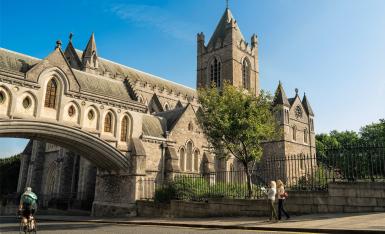 Follower: Dublin
Cycle parking is a problem in the city centre with not enough space on street or on footpaths. Dublin is aiming to increase cycle parking in the city with increased investment over the next number of years.
Follower: Helsinki
Helsinki is developing cycle parking every year by building more parking racks. They also had a map-based questionnaire for citizens, where they collected data for further planning. The city still has a long way to go and they especially need more insight into big parking hubs. How to make them in a cost-efficient way and mistakes to avoid are things they could learn from Amsterdam.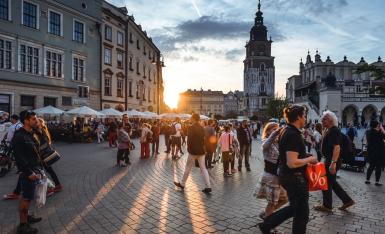 Follower: Krakow
The demand of parking spaces is becoming more and more high in the city and the number of parking facilities is already growing. Krakow wants to learn from Amsterdam how to create high-quality public spaces improving systematically the cycling parking system.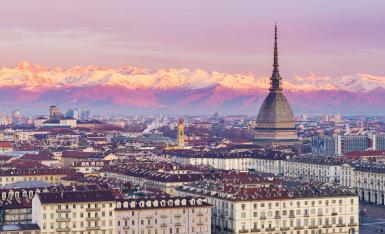 Follower: Turin
In order to have a quality cycling network the first step for the city of Turin is to make an analysis of the different types of bike lanes, shared and separated already built in the city and ask for help and suggestion on how to improve and complete them. In addition, it is necessary to realize a traffic calming manual for the city in order to have all the possible options available according to the national road law.
It's also required to update the street design manual to have a standardized approach about creating the right subdivision for the different modes of transportation, active mobility, public transport and private motorized with particular attention on intersection, updating the bicycle master plan guidelines.